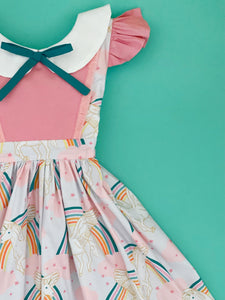 Dress in a classic apron silhouette with pockets on the skirt and a bow at the back. Beautiful detail on the chest and Peter Pan style neck. 100% cotton fabric with Unicorn and Rainbow print make it comfortable and fresh. Your little one will love it.
Handmade in Yucatan, Mexico.
Design placement may vary
Product ready for shipment. Please allow 2-3 days for the delivery of the item.
Ready to ship article. Please allow 2-3 days for order processing