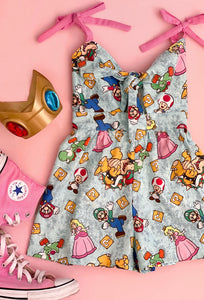 Classic jumper with a flirty touch of opening on the tummy. Adjustable straps and elastic band on the back for greater comfort. Made with a colorful print of Mimi and Mickey. Your little one will love this fun model.
Layout placement may vary.
Does not include accessories
Handmade in Yucatan, Mexico.
Please allow 3-4 weeks for the preparation of the product.
Shipping time for US orders is 3-4 Weeks after 3 weeks TAT ​​