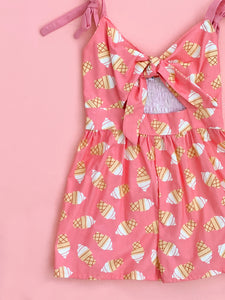 Classic jumper with a flirty touch of opening on the tummy. Adjustable straps and elastic band on the back for greater comfort. Made with 100% cotton fabric with ice cream print. Your little one will love this fun model.
Layout placement may vary.
Does not include accessories
Handmade in Yucatan, Mexico.
Product ready for shipment. Please allow 2-3 days for the delivery of the item.
Ready to ship article. Please allow 2-3 days for order processing