Our Inspiration
What is Tamal with Merengue? It is a childhood memory. One of the first memories. It's a family day, a cake with candles, the sound of sweets falling around you, it's joy.
Meet Our 100% Cotton Fabrics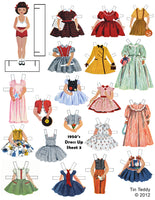 Activity for the little ones
Print and cut out with your little ones for hours of vintage fun. If you have older children, let them design and draw their own models.